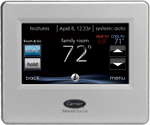 Thermostats are used to turn on heating or cooling systems to bring the home to a set temperature. In addition to basic temperature control, programmable thermostats can be used to manage the indoor environment of your home at different times of the day or week. This type of control can have a dramatic impact on the overall energy use of your home. We carry a complete line of thermostats. Let us help you choose the one that best matches your lifestyle.
The Côr Thermostat™
The Heart of a Smarter Home, Knows Your Home Better Than You Do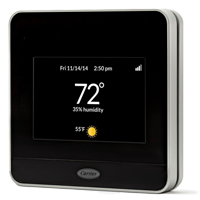 With its sleek, intuitive, smartphone-like touchscreen and remote accessibility, the Côr thermostat makes it easy to change temperatures and maintain control of your home's energy efficiency with the touch of a finger. The engineers at Carrier have developed a thermostat with intelligent controls designed to be the heart of a smarter home–a home where comfort and energy savings go hand-in-hand. The Côr thermostat monitors your energy usage patterns and turns them into simple, actionable energy reports. Available on your desktop or tablet, these reports offer multiple levels of pinpointed data about your system and home's performance. Whether you want a high-level overview or minute-by-minute data, the Côr thermostat offers the right energy report to help you make smarter decisions about how you control your home's comfort.
From here, you can control your comfort as you would on the wall or via your smartphone. Change the temperature manually or use the Touch-N-Go® feature to make temporary adjustments with a click or a tap of the finger. You can also glance at the current weather, view your monthly savings and get easy access to your expert Carrier® contractor's contact information along with shortcuts to other helpful features. To further understand your monthly savings, just click or tap on the Côr™ Energy Report tile. Energy reports from the Côr thermostat - available on your desktop or tablet - offer pinpointed data about your system's performance, allowing you to make smarter decisions about how you control your home's comfort.
Choose which smart features you want the Côr™ thermostat to use to help keep you comfortable and take the guesswork out of saving money on your heating and cooling energy costs.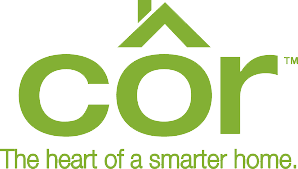 Programmable Thermostat Product Offering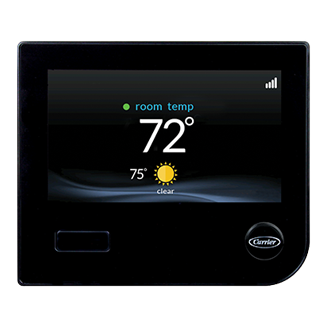 Infinity® System Control (Black)
View Brochure
Model Family: SYSTXCCITC01-B
Programmable: 7-Day with Touch-N-Go® feature
Communicating Capability with HVAC Components: Yes
Remote Access: Wi-Fi® enabled remote access
Screen: Full-color touch screen with photo upload capability
Warranty: 10-year parts limited warranty
Manufacturer's Stated Benefits:
Intuitive, on-screen prompts
Local weather 5-day forecast
Comes with silver, black and white faceplate options
Remote access via Internet as well as Apple® and Android™ smartphone or tablet devices1
Real-time energy use tracking
Ideal Humidity System ® management capable for exacting comfort
Intelligent, heating- and cooling-comfort staging capable
Auto changeover between heating and cooling
Monitors indoor air quality products
ComfortFan™ technology capable with four levels of
Ventilation management capable
Measures, displays and manages airflow to each zone and adjusts for quiet comfort
Knows percentage of airflow to each zone
Advanced smart setback for best energy savings during
One-button Touch-N-Go quick-settings-change feature
Simple vacation programming controls temperature and humidity
Choice of TrueSense™ dirty filter detection or fixed-schedule based filter replacement reminders
System maintenance reminders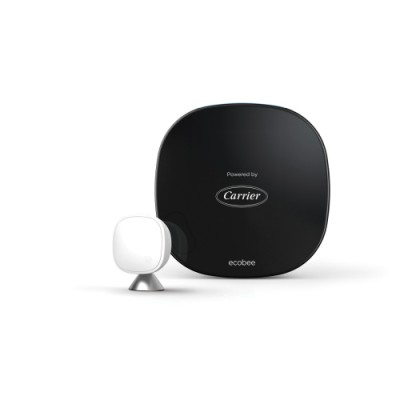 ECOBEE3 LITE PRO
View Brochure
Model Family: EB-STATE3LTCR-01
Programmable: Comfort Schedules: Set schedules to enjoy comfort while you are home, and assist with energy savings while you are away
Communicating Capability with HVAC Components: Yes
Remote Access: Control from anywhere with your iOS® or Android® devices.
Screen: 3.5in full-color touch screen
Warranty: Five-year limited warranty when purchased through and installed by a Carrier dealer
Manufacturer's Stated Benefits:
Save up to 23% on heating and cooling costs.
Energy Star® certified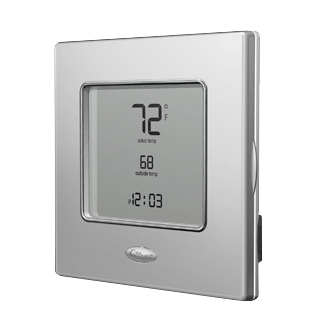 Performance™ Edge® Relative Humidity Programmable Thermostat
View Brochure
Model Family: TP-PRH01-B
Programmable: 7-day programmable
Communicating Capability with HVAC Components: Can manage any Performance™ or Comfort™ series system
Remote Access: No
Screen: Large, backlit LCD display
Warranty: 5-year parts limited warranty
Manufacturer's Stated Benefits:
Intuitive, on-screen prompts
Comes with attractive silver faceplate
Ideal Humidity System® management capable for better comfort
Hybrid Heat® system management capable
Intelligent, heating- and cooling-comfort staging capable
Auto changeover between heating and cooling
Day-at-a-glance 7-day or 5/2 (wake, away, home, sleep) programming
Vacation programming controls temperature and humidity
Fixed-schedule based filter, UV lamp and/or humidifier panel replacement reminders